RFID Card Reader Tripod Turnstile Gate Price
RFID Card Reader Tripod Turnstile Gate Price
ANXUNKE

Guangdong, China (Mainland)

3-5 working days after deposit

2000 Piece/Pieces per Month
Tripod turnstile is a controlling device which is designed for pedestrian access control. It is widely used in gymnasium, tourist attractions, factory, train, station, and so on. It also can be installed in outdoor environment. Tripod turnstile is the most effective-cost way to control pedestrian access and reliability is very high.
RFID Card Reader Tripod Turnstile Gate Price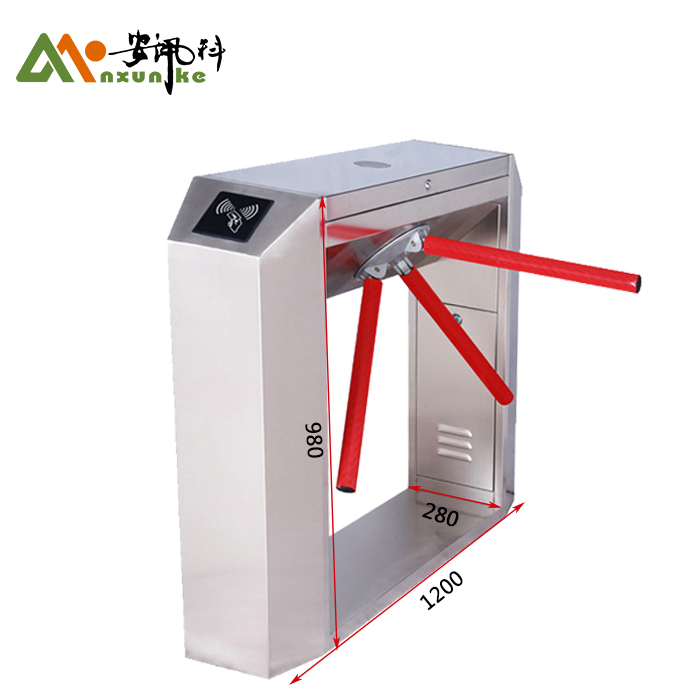 Tripod Turnstile Description:

| | |
| --- | --- |
| Material | Frame structure 304 stainless |
| Production Process | Full CNC Laser Cutting |
| Working Power | L1200* W 280*H980mm |
| Arm Length | 505mm |
| Channel Width | 550- 600mm |
| N.W. | 37kg |
| Gate working driving force | 3kg |
| Gate open time | 0.2 sec. |
| Passing Speed | 30 times/minute |
| Arm Direction | two-way, one-way (optional) |
| Communication interface | Standard RS485 /TCP/IP |
| Transmit Way | Digital way |
| Input interface | +12V level signal or DC12V pulse signal with pulse width >100ms, drive current >10mA |
1. Bright LED indicator to show directions.
2. Working environment: indoor and outdoor
3. Super quiet design: adopt third-generation silent, lower noise
4. Anti-collision function: no credit card pedestrian push the brake lever , lock gates ;
5.Counting function:to increase the number of counter statistics out ; ( to be customized )
6. Remote control: RS485 card can be accessed by computer or TCP to RS485 remote control gates ;
7. Automatic reset function: by credit card , but not access in specific time , the gates willlock automatically
8. Power off the pole: when the power cut off, the arm will fall automatically, so as to meetfire safety requirements
9. Illegal alarm function: no credit card when forced through a pedestrian, the pedestriangate alarm chance to swipe traffic.
10. Access memory function: the gates have the ability to remember access cards, untilthe entire passage of pedestrians closing
11. Limit the number of access functions: limit the number of access by software to meetthe special circumstances of personnel management
Tripod Turnstile function features:
1. Automatic bridge type of tripod turnstile:
1) Compatible with IC, ID, magnetic card, barcode card, anti-static and other control devices
2) The boom is unlocked fast and reliable
3) With power-off emergency function, the boom is drop down automatically when power off, and put it up by hand when power on.
4) Control panel with counting function, LED digital display function (optional)
5) Control board with memory function
6) There are standard input and output interfaces, which is the best choice for customer.
2. Mechanical bridge type of tripod turnstile:
1) Unique positioning and reset system: automatic reset, can always keep one of its rods in horizontal position
2) Tripod turnstile belongs to pure mechanical transmission products, without electronic control operation, with simple structure and high reliability.
3) Tripod turnstile is suitable for the location of one-way current limiting management without maintenance.
turnstile price, turnstile door, turnstile access control, turnstile manufacturers, turnstile access control system, turnstile system, security turnstiles prices, electronic turnstile, turnstile security systems, full height turnstile, full height turnstile price, full height turnstile price, turnstile entrance, turnstile entry systems, turnstile cost, pedestrian turnstile, turnstile gate manufacturers, turnstile suppliers, half height turnstile, turnstile barrier, turnstile suppliers, turnstile suppliers, automatic turnstile, office turnstile, access turnstile, turnstile gate with card reader